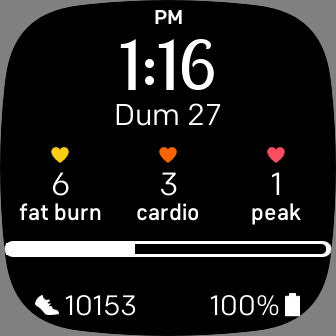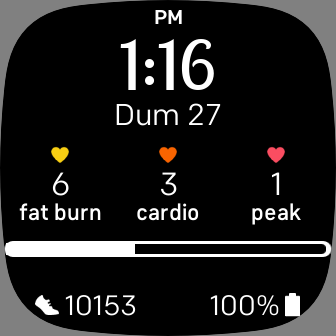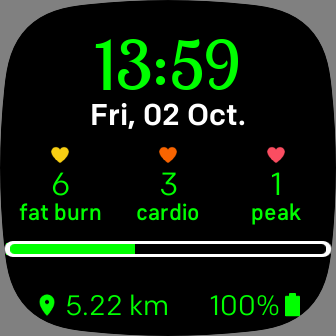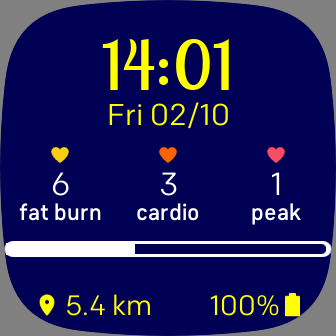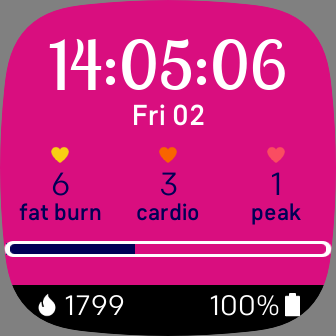 Active Zone Minutes WF
StarWatchfaces
6 devices
Available to install from
the Fitbit mobile app
This clock face requires a payment that is managed by the developer in-app.
Description
🌞 See our new Summer Collection https://starwatchfaces.com/summer 🌞
Focus on your Active Zone Minutes (AZM) with our new clockface!
Leading health experts say you need to get your heart pumping for at least 150 minutes each week. AZM is a new and more personalized way to measure your physical activity, calculated based on your resting heart rate and age. The three target heart rate zones are fat burn, cardio and peak, which are always displayed on the clockface, so you can track them easily and motivate you to exercise better.
At the bottom there is a progress bar indicating your daily AZM goal.
Please note that the values displayed for fat burn, cardio and peak AZM are taken from device, locally. When syncing the data with your phone, the data is sent into the Fitbit cloud which can adjust it based on it's proprietary algorithms. The adjusted values will be displayed in the Fitbit app and website, which may be a bit different than the values calculated on your watch and displayed in the watchface.
Other features:
- 12/24H clock
- date with multiple formats
- secondary stats shown in the bottom left corner (distance, steps, calories, floors, heart rate, main goal, total AZM)
- 100 colors for background, clock, date, stats, AZM
- 24 fonts for date and stats
Use the clockface settings page inside Fitbit app to change colors and fonts!
This is a paid clockface. The price is 1.49$ (+ taxes) via kpay, after a 1h free trial.
📧 Subscribe to receive our once a month newsletter with our latest releases, promotions and free codes - http://eepurl.com/g75BAP
Follow us for updates & promotions:
- Facebook: https://fb.com/starwatchfaces
- Instagram: https://instagram.com/starwatchfaces
- Telegram: https://t.me/starwatchfaces
- Newsletter: https://starwatchfaces.com/nl/
Tags: AZM, active zone minutes, sport, exercise, heart, zone, activity, tracking, fat burn, cardio, peak
This clock face requires a payment that is managed by the developer in-app.