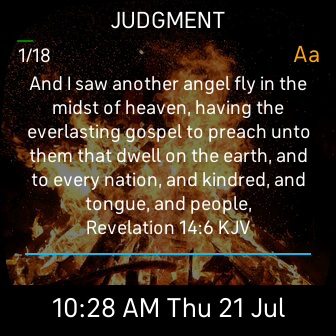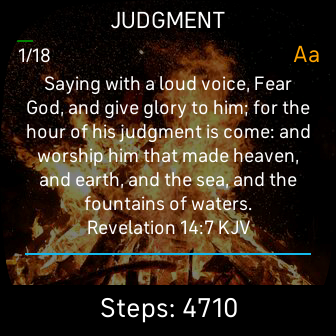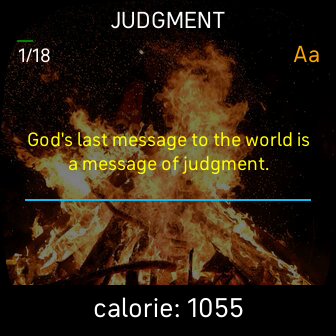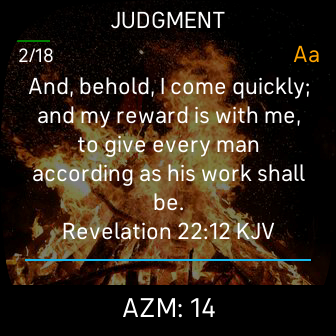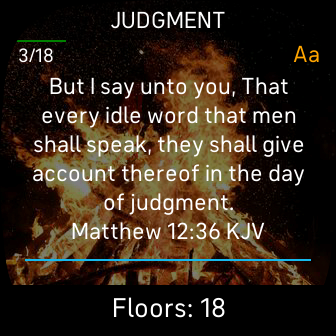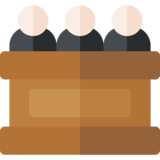 Judgment
Giovanni Saberon
6 devices
Available to install from
the Fitbit mobile app
Payment required
This app requires payment and is managed by a 3rd-party developer that is not endorsed by Fitbit.
Proceed with caution.
Payment required
This app requires payment and is managed by a 3rd-party developer that is not endorsed by Fitbit.
Proceed with caution.
Description
Read, Meditate, Memorise bible verses about Judgment Day on your watch.
WATCH VIDEO DEMO
Visit https://gesab001.github.io/fitbit?appName=judgment&appType=app
ABOUT JUDGMENT DAY
Every man's work passes in review before God and is registered for faithfulness or unfaithfulness. Opposite each name in the books of heaven is entered with terrible exactness every wrong word, every selfish act, every unfulfilled duty, and every secret sin, with every artful dissembling. Heaven-sent warnings or reproofs neglected, wasted moments, unimproved opportunities, the influence exerted for good or for evil, with its far-reaching results, all are chronicled by the recording angel.
The law of God is the standard by which the characters and the lives of men will be tested in the judgment. Says the wise man: "Fear God, and keep His commandments: for this is the whole duty of man. For God shall bring every work into judgment." Ecclesiastes 12:13, 14. The apostle James admonishes his brethren: "So speak ye, and so do, as they that shall be judged by the law of liberty." James 2:12
Those who in the judgment are "accounted worthy" will have a part in the resurrection of the just. Jesus said: "They which shall be accounted worthy to obtain that world, and the resurrection from the dead, . . . are equal unto the angels; and are the children of God, being the children of the resurrection." Luke 20:35, 36. And again He declares that "they that have done good" shall come forth "unto the resurrection of life." John 5:29. The righteous dead will not be raised until after the judgment at which they are accounted worthy of "the resurrection of life." Hence they will not be present in person at the tribunal when their records are examined and their cases decided.
THIS APP INCLUDES:
- 18 important bible passages from the King James Version Bible focusing on Judgment Day.
- Each passage includes a short explanation in yellow font
- Displays current time and date
- Ability to change the font size for readability
- Heart Rate display
- Calories
- Steps
- Distance
- Floors
- Active Zone Minutes (AZM)
HOW TO USE:
- Tap on the bottom left/right to move between different passages
- Scroll down to read a short explanation of the passage
- Tap on the bottom center to toggle between time/steps/calories/heart rate display.
- Tap on the "Aa" button to resize font. (Font will become small after reaching the maximum size)
PRICE: $1.99
HOW TO PURCHASE:
Method 1: To purchase now, visit https://kiezelpay.com/code/?s=45B99D50-74A3-780C-3E13-9377074B11EA&dsu=1662743&p=44752-44274-44140&platform=fitbit
Method 2: After the trial is over, when a code appears on your smart watch device, visit https://kzl.io/code.
TAGS: Judgment, Judgment Day, Bible, Bible Memory Verse
This app requires a payment that is managed by the developer in-app.