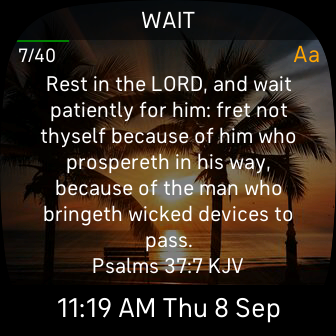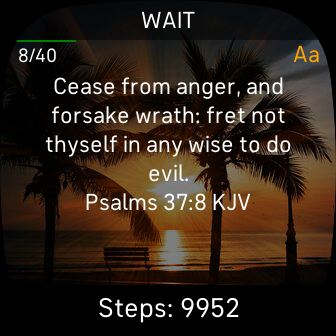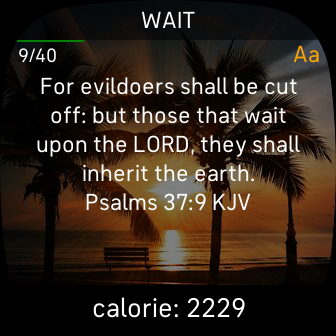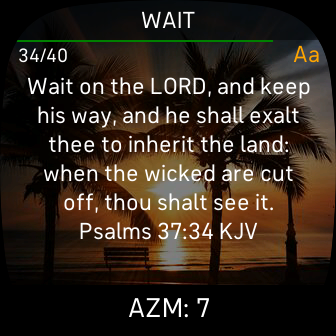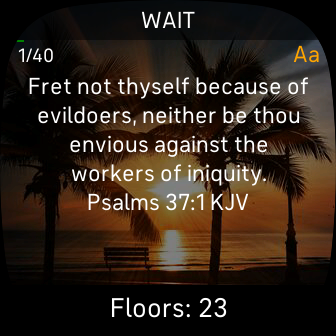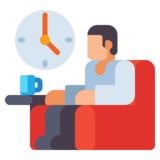 Wait
Giovanni Saberon
6 devices
Available to install from
the Fitbit mobile app
Payment required
This app requires payment and is managed by a 3rd-party developer that is not endorsed by Fitbit.
Proceed with caution.
Payment required
This app requires payment and is managed by a 3rd-party developer that is not endorsed by Fitbit.
Proceed with caution.
Description
Read, Meditate, Memorise Bible verses from Psalm 37 on your watch.
WATCH VIDEO DEMO
Visit https://gesab001.github.io/fitbit?appName=wait&appType=app
ABOUT WAIT
The Lord is not pleased to have us fret and worry ourselves out of the arms of Jesus. More is needed of the quiet waiting and watching combined. We think unless we have feeling that we are not in the right track, and we keep looking within for some sign befitting the occasion; but the reckoning is not of feeling but of faith.
When we comply with the written Word, according to our best knowledge, then we are to walk by faith, whether we feel any special gratification or not. We dishonor God when we show we do not trust Him after He has given us such wondrous evidences of His great love in giving His only-begotten Son Jesus to die, our sacrifice, that we may believe in Him, rest our hopes in Him, and trust in His Word without a question or doubt.
Keep looking unto Jesus, offering up silent prayers in faith, taking hold of His strength, whether you have any manifest feeling or not. Go right forward as if every prayer offered was lodged in the throne of God and responded to by the One whose promises never fail. Go right along, singing and making melody to God in your hearts, even when depressed by a sense of weight and sadness.
FEATURES:
- 40 Bible verses from the King James Version Bible from Psalm 37.
- Displays current time and date
- Ability to change the font size for readability
- Heart Rate display
- Calories
- Steps
- Distance
- Floors
- Active Zone Minutes (AZM)
HOW TO USE:
- Fitbit OS sets a limit to how many apps can be installed in your watch. If this app doesn't install, maybe you have to delete some apps to make space for this app.
- Tap on the bottom left/right to move between different verses.
- Tap on the bottom center to toggle between time, steps, calories, active zone minutes, heart rate, floors, distance display.
- Tap on the 'Aa' button to resize font. (Font will become small after reaching the maximum size).
FREE 1 HOUR TRIAL
PRICE: $1.99
HOW TO PURCHASE:
Method 1: To purchase now, visit https://kiezelpay.com/code/?s=45B99D50-74A3-780C-3E13-9377074B11EA&dsu=1662743&p=45033-44891-44798&platform=fitbit
Method 2: After the trial is over, when a code appears on your smart watch device, visit https://kzl.io/code.
TAGS: Psalm 37, Wait On The Lord, Bible Memory Verse
CREDITS: Waiting icons created by Flat Icons - Flaticon (https://www.flaticon.com/free-icons/waiting)
This app requires a payment that is managed by the developer in-app.