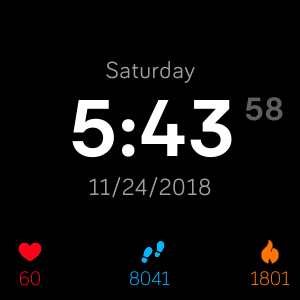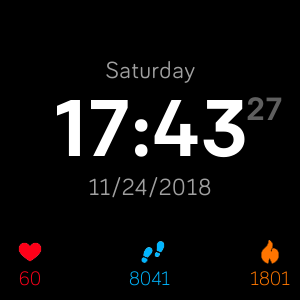 Simple Stats
Mike White
3 devices
Available to install from
the Fitbit mobile app
Description
This is a simple, small font clock face which contains:
Day of the week
Time with seconds (12/24 hour format based on user preferences via FitBit Account)
Date is in MM/DD/YYYY (US) format.
Heart Rate, Steps, and Calories burned across bottom.
Currently only supports Versa, Ionic support coming soon.
**To enable 24 hour time format, login to your FitBit account online and update it in your profile settings.
*NOTE* This app requires FitBit OS 2.2 + (version 32.12.19) If you are getting a "can't be installed on your device" error, please make sure your Versa and the FitBit app are up to date and try again.
-Battery Life improvements
-Optimizations
-Thanks for the support and feedback! Keep it coming!
Feel free to send feedback for additional features, or just general feedback. Enjoy!