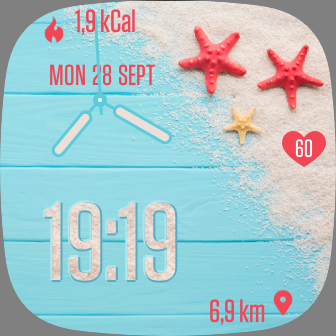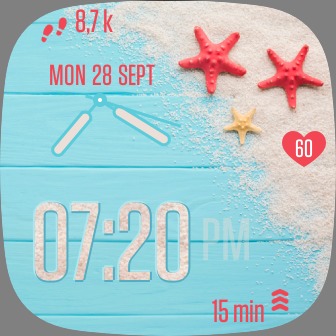 Sand Smell
MagicClockFaces
5 devices
Available to install from
the Fitbit mobile app
This clock face requires a payment that is managed by the developer in-app.
Description
🍀 Save over 90% by choosing one of our bundle, tap here: https://cutt.ly/OnlyMagicClockFaces
👉 Follow us on Facebook https://www.facebook.com/magicclockfaces and get ready for each day offers 🍀
This Clock Face show:
👉 Realtime Calories monitor (kJoules/kCalories)
👉 Realtime Steps Counter
👉 Realtime Active Minutes
👉 Realtime Distance
👉 Heart Rate
🔔 You can customize the watch face by changing almost any color that you see on the screen.
It will vibrate each sharp hour between 08:00 - 22:00 letting you know when the hour has changed also It will nudge you each time you complete a goal. If you don't want to be disturbed you can turn this feat
Clockface only costs 1.49$. (Lifetime purchase).
Payment is possible via Paypal or Credit Card.
Background photo created by freepik - https://www.freepik.com/free-photos-vectors/background
tags: flowers flower summer june july august sun star sand beach sea sun nature travel ocean sunset love sky summer waves water desert vacation landscape fun beautiful holiday surf blue flower flowers elegant romantic floral watercolor beautiful, pretty, pink, cute , adorable, glossy, fashion, love, spring, summer, winter, autumn, nature, flowers, elegant, romantic, floral, passion, red, blue, pink, colors, traditional, flowerpower, garden, orchid, daisies, gerbera, lilies, roses, sunflower, tulips, watercolor, flowers, flower, leaves, holiday, vacation, island, sea, ocean, palm, coconut, vibrant, circle, future, heart, love, loving, girlfriend, boyfriend, weeding
This clock face requires a payment that is managed by the developer in-app.